Peer 2 Peer Connect is VSN's exclusive opportunity for military and veteran spouses/partners and family members to receive virtual one-on-one support from a VSN Peer Leader. While this is not a substitute for clinical talk therapy, it provides participants with the chance to receive a level of support that may not be possible in our peer group settings.
These sessions are intended to provide one time support, and referrals to our other programs and other desired supports. If a leader is able to meet on a recurring basis, they will share that information with the participant to set up additional check-ins.
When completing the Peer 2 Peer Connect sign up form, you will be asked what you would like to discuss in this check-in, if you have any preferences in terms of the type of leader you are matched with, and what your availability is for a call. Program staff work to match you with the leader best suited to support you, based on your stated needs and availability.
Click below to get signed up for a one-on-one session with a peer leader.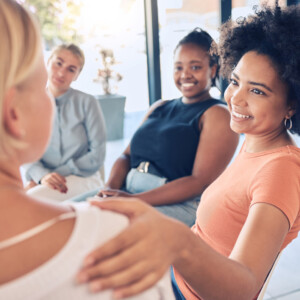 Eligibility
Peer 2 Peer Connect is intended for military or veteran spouses, partners, and family members ages 18 and up who are living in the United States. Individuals divorced from a service member or veteran are also eligible.
What Peer Support Looks Like
After signing up for Peer 2 Peer Connect, individuals will be connected with a trained VSN Peer Leader. Peer Leaders are fellow military or veteran spouses/partners who are trained to lead peer support groups and individual check-ins. Leaders are not counselors or therapists – they are members of the military and veteran community who have 'been there and done that' and as a result, can hopefully understand and relate to our participant's experiences and what they may be going through. Our leaders primary purpose is to provide a listening ear, facilitating a space to share without judgement, while offering validation. They may give advice and suggestions if welcomed by the participant, but primarily, their role is to simply talk through the participant's experience with them and work with program staff to provide additional resources and supports as needed or requested.
How does this differ from clinical therapy?
Unlike Peer 2 Peer Connect, which is facilitated by trained peer leader, clinical therapy can be offered by a range of licensed professionals, including social workers, psychologists, professional counselors, and marriage and family therapists. Clinical therapy can be an incredibly rewarding experience and can address a number of issues including (but not limited to): Improving communication skills; Learning to resolve conflict; Treating mental health conditions; Increasing self-awareness; Resolving past trauma; Developing coping skills and strategies; Learning to develop and maintain stronger relationships; and Addressing negative emotions, thought patterns, and behaviors.
At the VSN, we strongly support the benefits of clinical therapy and believe that when paired with a qualified clinician, it can be a deeply impactful and transformational experience. We also believe that choosing an avenue of support does not have to be an 'either/or' decision – but in fact, clinical therapy and peer support can co-exist and complement each other in an individual's wellness journey. If you are hoping to try out clinical therapy, we encourage you to check out the mental health & wellness section of our resources page.
988 Suicide & Crisis Lifeline
If you or a loved one is experiencing a mental health crisis, we encourage you to call the 988 Suicide & Crisis Lifeline. The 988 Lifeline provides 24/7, free and confidential support for people in distress, prevention and crisis resources for you or your loved ones, and best practices for professionals in the United States.